Crowns
Sensational Smiles of Charleston in Goose Creek, SC brings you strong, durable and beautiful tooth restorations with dental crowns. Dental crowns are caps that completely encase a tooth, strengthening it while improving its appearance and structure. With a dental crown, the tooth is completely restored, so your dentist doesn't need to perform complex dental treatments.
Crowns are permanently bonded to the teeth and are available in different materials like porcelain, stainless steel, and Zirconia. Stainless steel crowns are often used on children. Porcelain crowns, on the other hand, are highly preferred by many patients because they greatly resemble the look and color of real teeth.  Zirconia crowns are extremely strong, tooth colored, and rated as unbreakable!  Zirconia is primarily indicated in long-span bridges.  We have the availability to offer Emax porcelain crowns, which have superior esthetics and very high strenth, as same day crowns.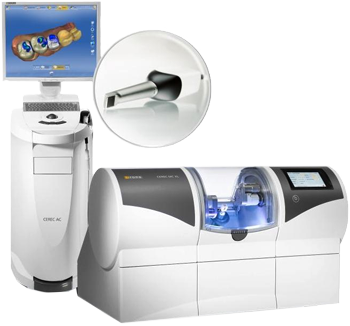 When is a Dental Crown Necessary?
Dr. Richard Rutecki will first examine your teeth to determine your course of treatment. A dental crown may be necessary under one or more of the following conditions: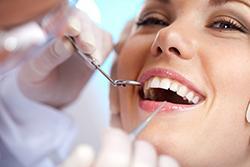 When a tooth is weak, cracked, or breaking; thereby, needing support
When a tooth is severely damaged yet can still be saved
When a tooth needs structural support following procedures like fillings and root canal therapy
When a dental bridge needs support
When a dental implant needs to be covered
When a tooth needs cosmetic enhancement, such as in the case of a discolored tooth or a tooth that's badly misshapen
What Happens During Dental Crown Placement?
Dr. Rutecki will need to examine and prepare your teeth for the procedure. X-rays may be taken so the dentist can check the underlying roots and surrounding bones of a tooth. If a tooth is badly decayed, we will need to remove the decay and bacteria first before the crowns are placed, via procedures like a core build-up.  Root canal therapy is only involved when the nerve of the tooth is infected.
Tooth preparation then follows. A tooth is filed down by a few millimeters to accommodate the crown. The amount of enamel to be removed depends on the type of crown to be used. Porcelain crowns may require more filing than all metal crowns, which are thinner.
After tooth preparation, Dr. Rutecki and team will now take digital impressions of your teeth (no more messy impressions). This computerized model of your teeth will be used, to create your custom-fitted crowns accurately. Your measurements will be used as data on our Cerec equipment where we program the exact specifications to fabricate your permanent crowns. This fabrication, milling, and funace firing procedure takes about 1-1.5 hours.  We will usually schedule you with two appointments on the same day, with this break in between.  This way there is no need for a temporary crown or another round of anesthesia!
Get Your Dental Crowns at Sensational Smiles of Charleston!
Crowns are tooth restorations that can provide you with strength, durability and aesthetics. Call us today, at Sensational Smiles of Charleston at (843) 569-8795 and receive top notch, exceptional dental care in Goose Creek, SC.
WHAT IS CEREC?
CEREC stands for Ceramic Reconstruction and is a sophisticated system of designing and making high quality, metal-free dental restorations in one patient visit. Developed by Sirona, CEREC utilizes 3D photography and CAD/CAM technology to assist a dentist in designing a virtual restoration (onlay, inlay, crown, or bridge) without taking impressions and, when combined with a milling unit, is able to build the actual restoration while you are still in the chair.
This machine allows us to take digital impressions for restorations (no more gagging on impressions!) and make precise restorations that look excellent, fit perfectly, and last a long time — all out of biocompatible, metal-free materials and all in very little time (a typical crown appointment lasts less than 2 hours, and you don't need to come back to finish the work… it's all done in one visit).
HOW YOU BENEFIT:
By upgrading our CEREC machine, we are able to do one day restorations on almost all procedures (you can have a complete crown done in about two hours, in one visit), including inlays, onlays, crowns, and even some bridges, often at a lower cost to you. Restorations look outstanding, last a long time, and are biocompatible and metal-free. Fewer visits and a lower cost… that's a pretty good benefit!
HOW DO YOU KNOW IF YOU NEED A CEREC RESTORATION?
If you have been told you need a new crown, inlay, onlay or bridge, you may be a CEREC candidate. If you have a cracked tooth, old failing restorations, or otherwise large damage on your teeth, you may be a CEREC candidate. If you are interested in replacing old metal restorations with biocompatible restorations, you might be a CEREC candidate. Essentially, any large restoration in your mouth may be a possible candidate for a CEREC restoration (this is NOT to say that just because you have an old crown, you need a new one… IF an old restoration needs replacing, CEREC may be a good option for you).
HOW IT WORKS:
The cavity preparation is first photographed and stored as a three dimensional digital model and proprietary software is then used to approximate the restoration shape using biogeneric comparisons to surrounding teeth. The practitioner then refines that model using 3D CAD software. When the model is complete a milling machine carves the actual restoration out of a ceramic block using diamond head cutters under computer control. When complete, the restoration is bonded to the tooth using a resin. CEREC is an acronym for Chairside Economical Restoration of Esthetic Ceramics.
Click the words above to schedule all appointments.  For immediate emergency needs, call our office now.